My standing desk project: purchase guide, assembly and review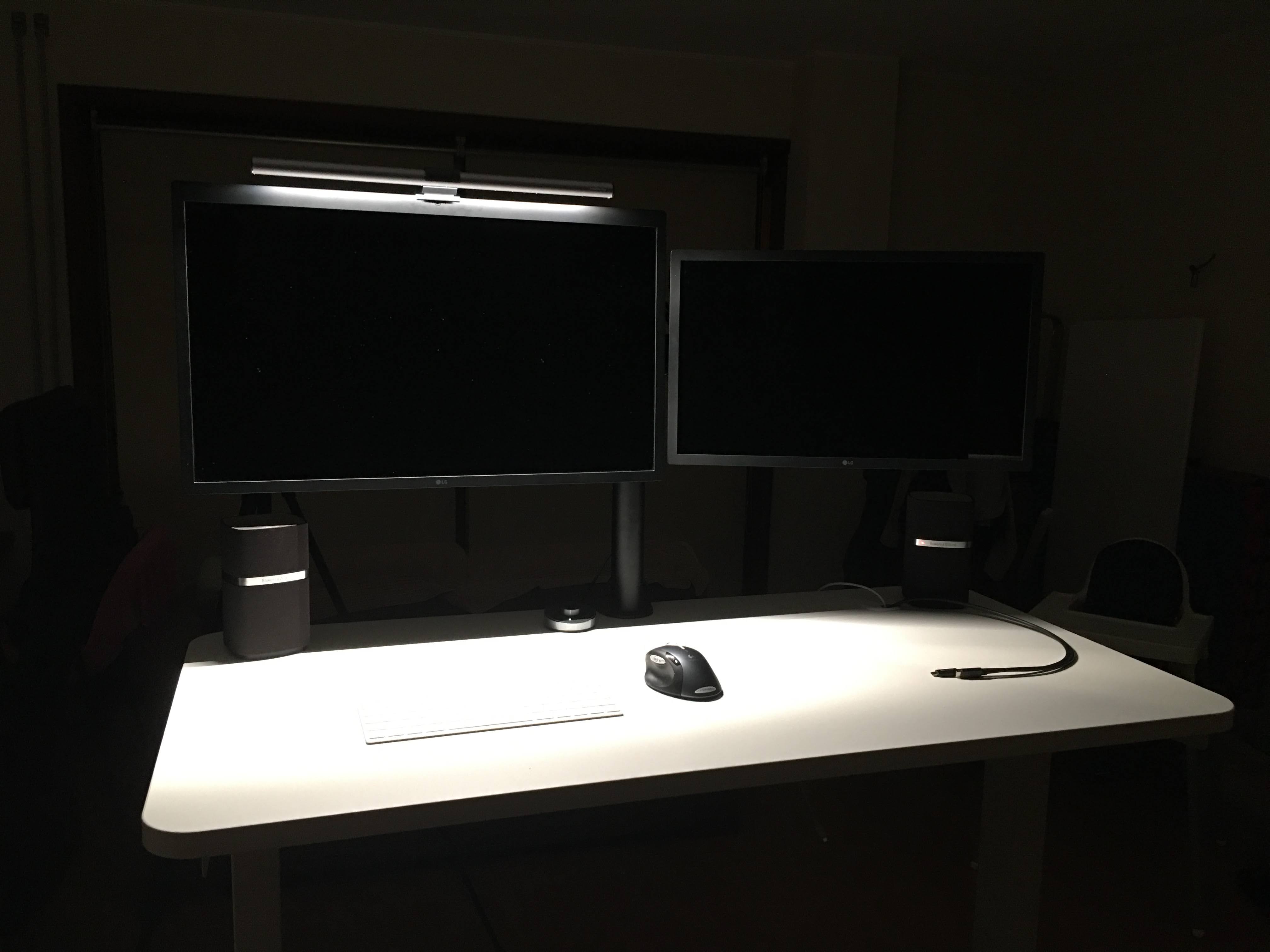 New standing desk
Many of us Software Engineers spend too many hours sitting down. To add insult to injury, due to the pandemic I found myself working full remote without the chance to practice swimming, something that I love to do and keeps my back and shoulders healthy. It was clear to me that I had to do something about it. The first thing I thought about was replacing my fixed desk with an electric standing desk to reduce Repetitive Strain Injury (RSI) and help avoid pain..
Here I present a complete guide for choosing and setting up your own standing desk, which reduces the number of hours you spend sitting, in order to work remotely in a healthier way.
Standing desks are a worthwhile investment, especially if yours is able to move up and down several times during the day. As a bonus, on average you also burn around 200 calories more while standing than while sitting down. The main purpose of this build is a minimalistic but functional desk. This means less cables and no visible power adapters. I produced a video explaining my choice of components, assembly, review and final result. Check it out here:
Initial state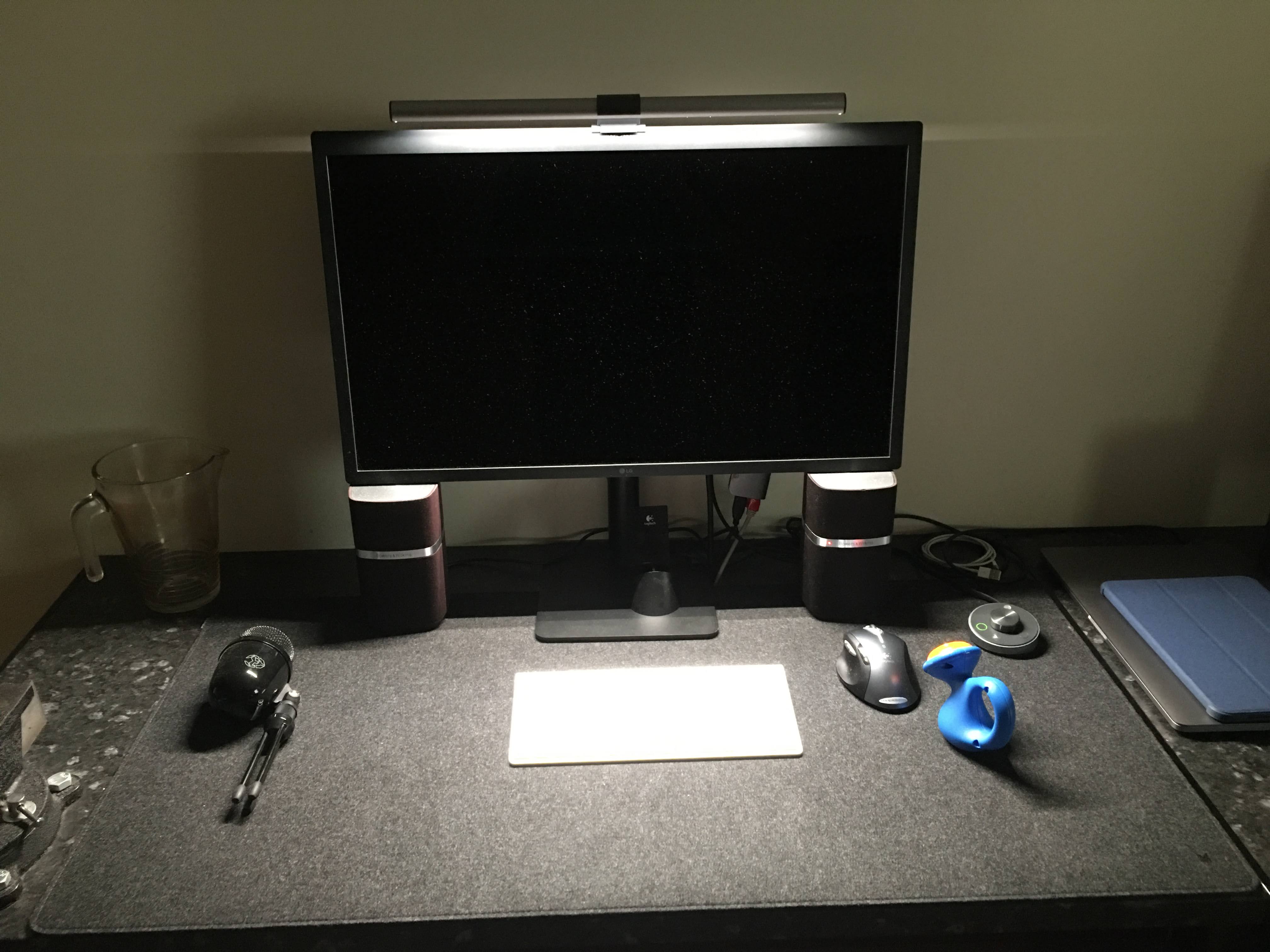 Before the standing desk
Pre-existing hardware before this standing desk setup:
Main computer

2019 16'' Apple MacBook Pro

Dual monitor arm:

27'' LG UltraFine 5K Thunderbolt
22'' LG UltraFine 4K USB-C

Other peripherals

Logitech MX1000 Bluetooth mouse (discontinued)
Apple Magic Keyboard 2
Bowers & Wilkins MM-1 speakers for Mac (discontinued)

Monitor light
Bill of Materials
All the items used for this setup were purchased from Amazon Spain with my own money and for personal use.
Desk
MAIDeSITe Rectangular Height Adjustable Electric Standing Desk of Only 120 x 60 x 2.5 cm (White)
MAIDeSITe Height Adjustable Electric Standing Desk Three-stage Resistant Steel Standing Desk with Anti-collision Protection, Intelligent Automatic Memory Keyboard
Amazon Basics - Support for two screens with mounting arm with adjustable height, 360° rotation, adjustable screen inclination and cable organizer (steel)
Cables
2x Cable Matters Thunderbolt 4 Cable USB-C Active 40 Gbps with 100W Charging and 8K Video - Universally Compatible with USB-C, USB4 and Thunderbolt 3-2 Meters
Choose USB C to Lightning Cable with Certified MFi, Fast Charge Power Delivery Cable for iphone12/12 Pro / 12 Mini / 12 Pro MAX / 11 / X/XS/XR, iPad
D-Line EU/CTUSMLW/SW - Cable Organizer Box, White, Small
UGREEN USB C Cable USB 3.1 Gen 2 Extension 10Gbps, 4K 60Hz Video, 20V 5A 100W, USB-C Cable Thunderbolt 3 Extension Compatible with USB C Hub/Dock, Macbook Pro 2020/2019/2018, Samsung S21 S20, 1 Meter
Anker Powerline III - USB C to USB C 2.0 cable of 100 W, for fast charging 2.0, compatible with Apple MacBook Pro 2020, iPad Pro 2020, Galaxy S10 Plus, S9, S8 Plus, Pixel, Switch, LG V20 and more
nonda USB C to USB 3.0 Adapter (2 Pack), USB-C to USB Adapter, USB Type-C to USB, Thunderbolt 3 to USB Female OTG Adapter for MacBook Pro 2020/19/18, MacBook Air 20/19/18 and More Type-C Devices
Cable Management
GothicBride cable ties, reusable cable ties cable strap, adjustable cable hook and bow tie wraps, 50 pieces, 15x2 cm, black
Cable Gutters, Stageek 3.5M Cable Channel, Cable Channel, Cable Organizer Cable Channel, 9 Pieces of Cab Management Kit White
SOULWIT® 50Pcs Clips Self Adhesive Cable Organizer, Electrical Cable Management, Cable Clips for USB Cable, TV, Charger, Audio, Wire Clamp for Table, Car, Office, Home
Others
Baseus USB 100W Charger, GAN Tech Quick Wall Charger with 4 Ports 2C+2U Mobile Charger USB C pour MacBook Pro/Air, iPad Pro, iPhone 12 Pro MAX, Galaxy S20/ Note 20, Huawei Mate 30 etc- White
USB Plugs Strip, Multiple Plug 4 Outlets and 4 Fast USB Outlets (5 V, total 3.4 A) Power Outlet with Surge Protection and Switch (10A/2500W), 2M White Wall Strip
Formgut Mouse Pad, Felt with Non Slip Coating, Light Grey Grey Light Grey Deskpad XL